Do you want more space in the kitchen? It might be necessary to move some things to the pantry. A farmhouse themed pantry will be the best and most stylish place for your groceries. If you have a large pantry, you absolutely want to give it a farmhouse style. However, you may not have any clue where to start. That's why we put together a huge list of farmhouse pantry ideas for your design inspiration. It is important to get farmhouse pantry designs in a way that will be practical and easy to learn from.

Farmhouse Pantry Ideas
If you have a pantry and you want to improve it, the ideas below are absolutely perfect. We pulled the designs from Houzz and credited each designer.
1. Modern Farmhouse

Modern Farmhouse by Chad Hemphill Construction
---
2. Contemporary Rustic Farmhouse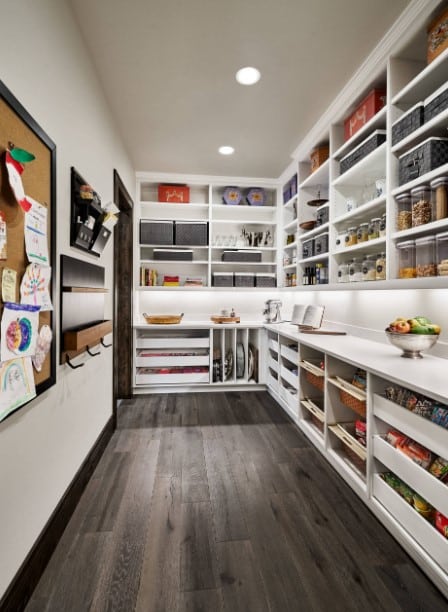 Contemporary Rustic Farmhouse by Garrison Hullinger Interior Design, Inc.
---
3. Pantry Well Stocked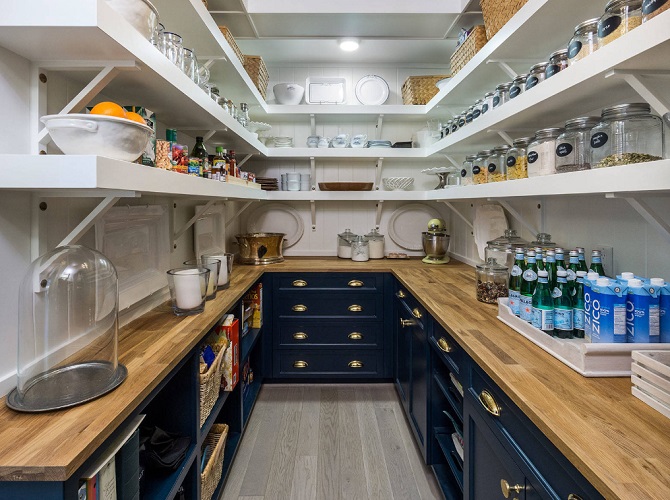 Pantry Well Stocked by KuDa Photography
---
4. Hilltop Farmstead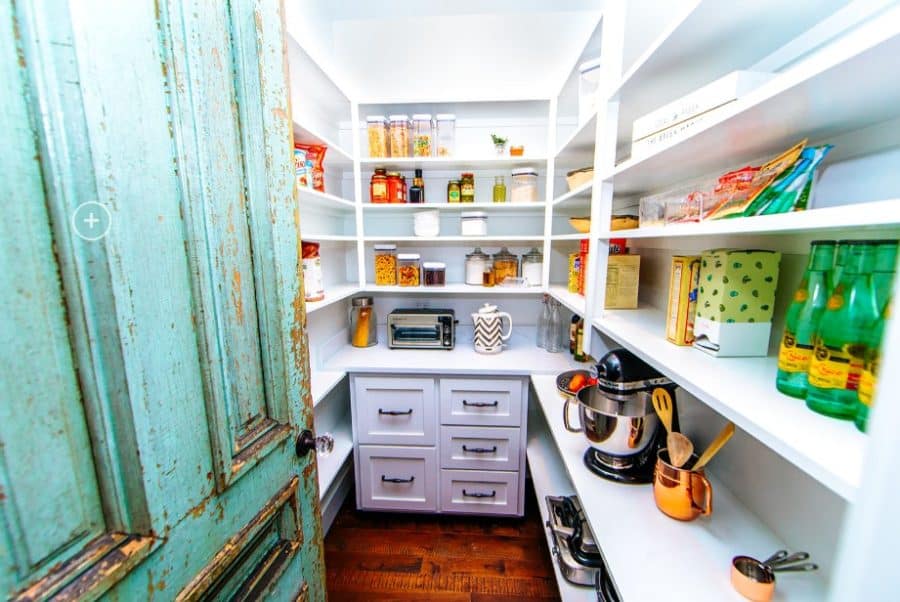 Hilltop Farmstead by Grit Design Build
---
5. Mountain Maritime Pantry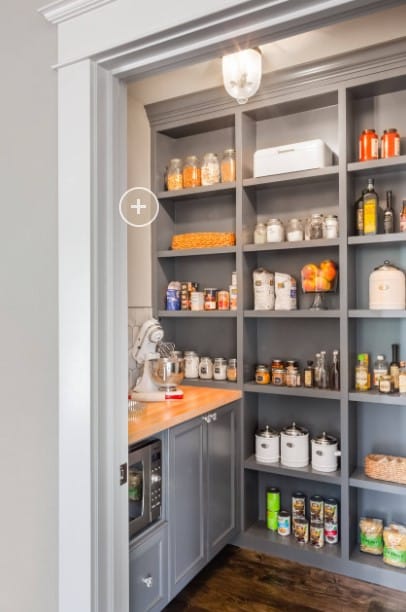 Mountain Maritime Pantry by Design Harmony
---
6. Rustic & Traditional Farmhouse Ipswich MA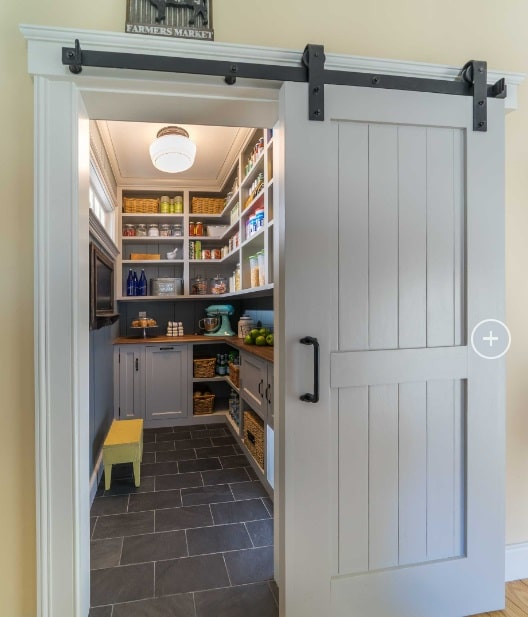 Rustic & Traditional Farmhouse Ipswich MA by Windhill Builders
---
7. Perry House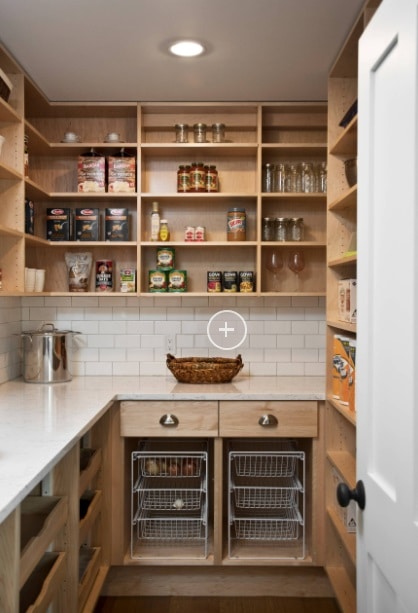 Perry House by Cabinet Designers, Inc
---
8. Farmhouse Pantry
---
9. Galveston St. House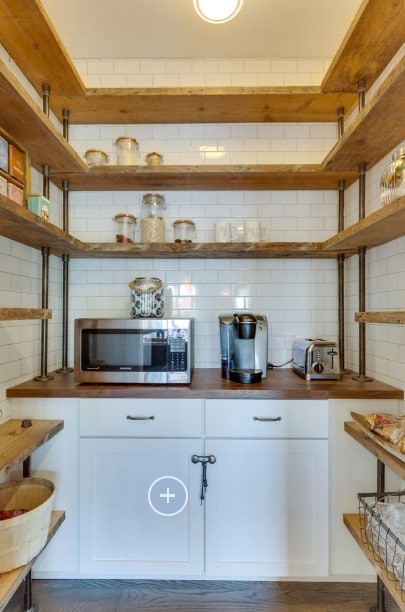 Galveston St. House by MK Development & Investment, LLC
---
10. Kitchen Pantry Laundry Room Remodel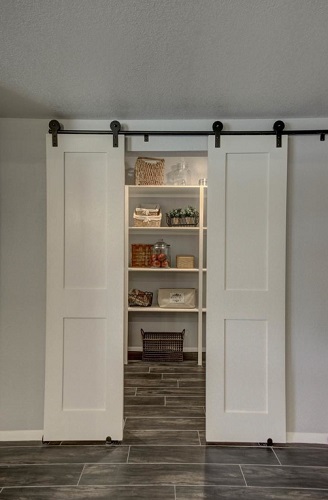 Kitchen Pantry Laundry Room Remodel by Mariano & Co., LLC
---
11. Urban Farmhouse
---
12. Pantries
---
13. Kings Place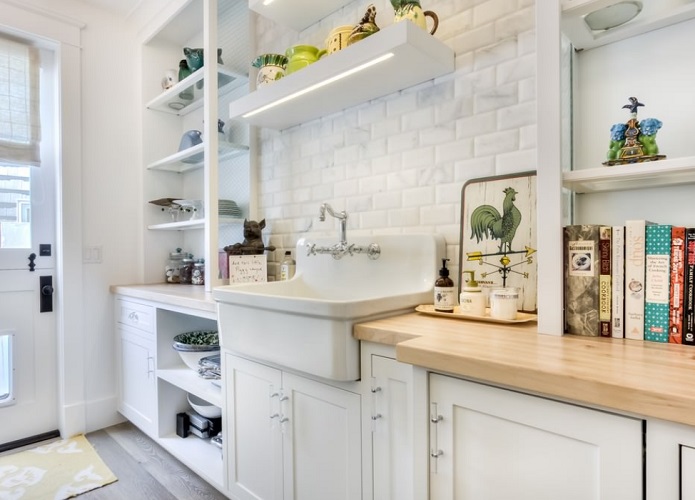 Kings Place by William Guidero Planning and Design
---
14. Coastal Plantation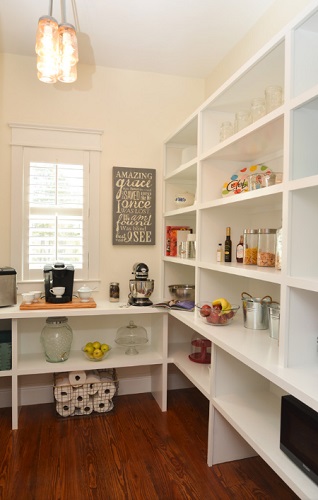 Coastal Plantation by White Oak Construction LLC
---
15. Chestnut Hill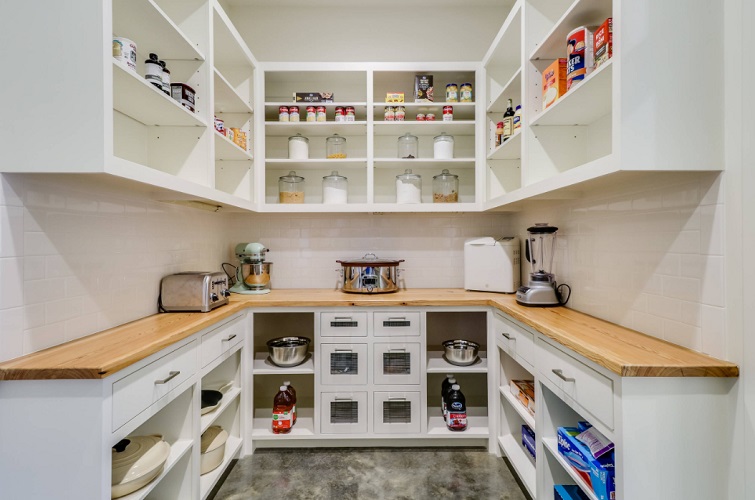 Chestnut Hill by J. Stewart Designs
---
16. Modern Victorian

Modern Victorian by Tim Brown Architecture
---
17. Lindon Modernization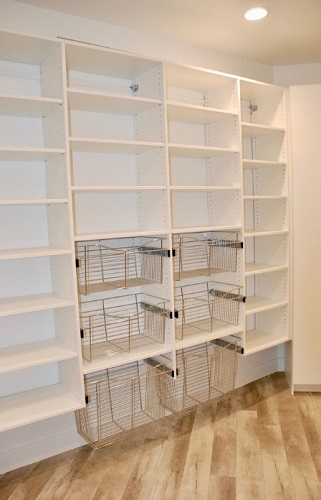 Lindon Modernization by South Haven Homes
---
18. Pennsylvania Farmhouse Inspired Kitchen

Pennsylvania Farmhouse Inspired Kitchen by Benbow & Associates
---
19. Home Tex Homes Pantry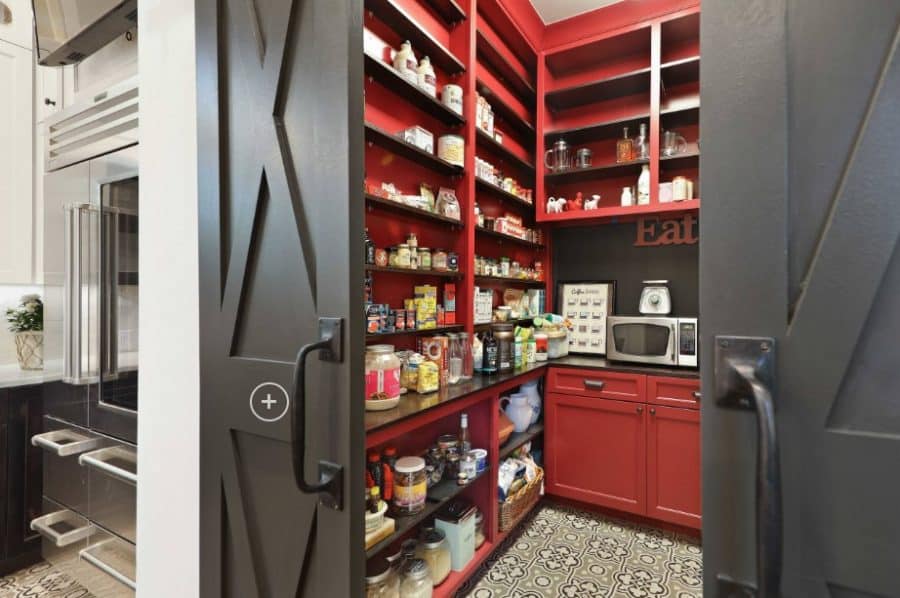 Home Tex Homes Pantry by HomeTex Homes
---
20. Pantry
---
21. Buena Vista Gables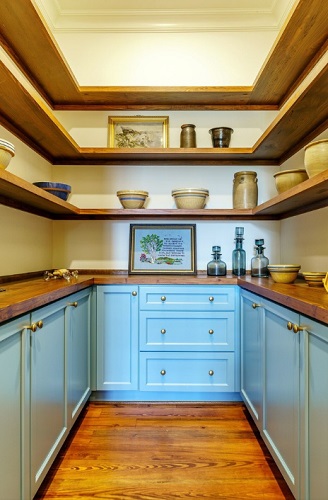 Buena Vista Gables by June DeLugas Interiors
---
22. Castle Hill Kitchen

Castle Hill Kitchen by New England Design Elements
---
23. 2011 Showcase – Hillside Retreat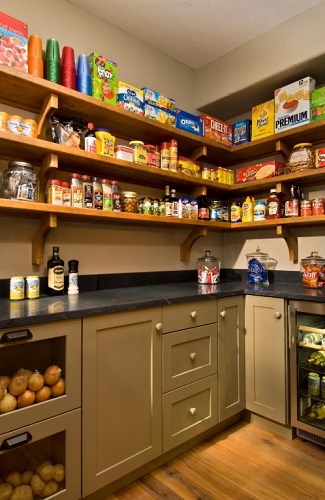 2011 Showcase – Hillside Retreat by Witt Construction
---
24. Modern Farmhouse Pantry

Modern Farmhouse Pantry by Old Hillsboro Building Company
---
25. Dutch Colonial Charm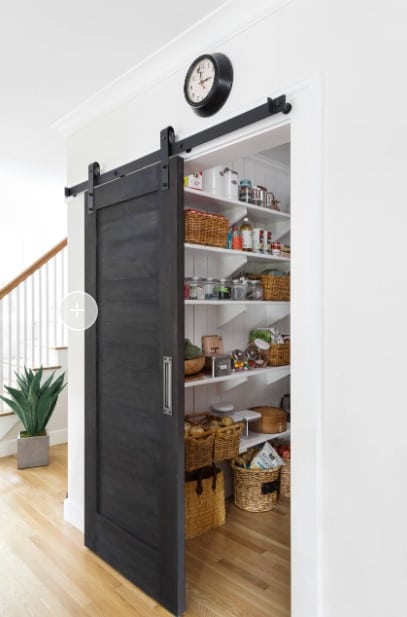 Dutch Colonial Charm by Cummings Architects
---
26. Urban Farmhouse Remodel

Urban Farmhouse Remodel by HighCraft Builders
---
27. California Rancher with Pool House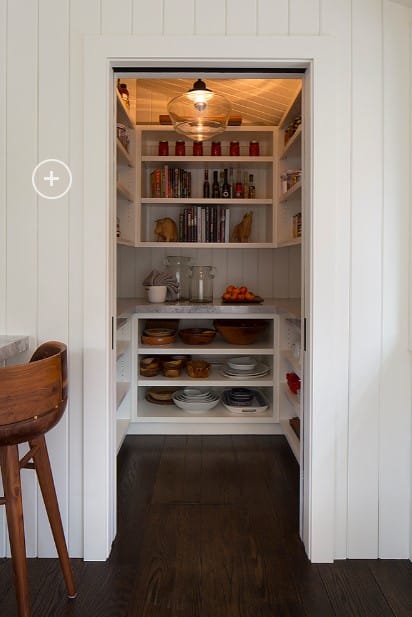 California Rancher with Pool House by LMB Interiors
---
28. Hugg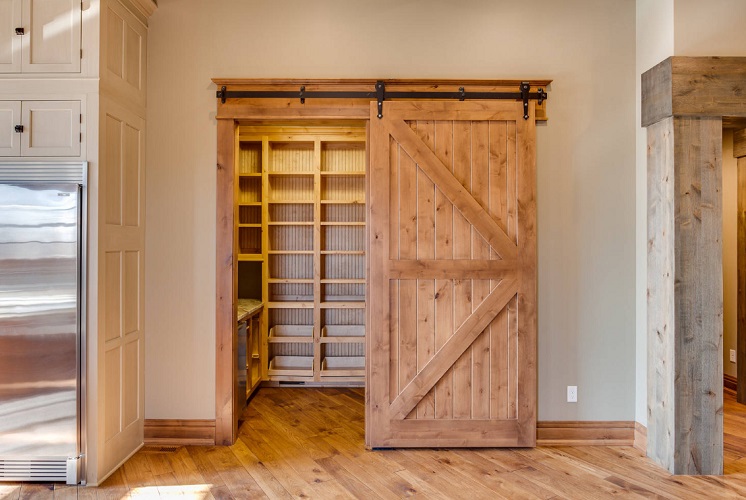 Hugg by LifeStyle Development, Inc.
---
29. Kings Place 2

Kings Place 2 by William Guidero Planning and Design
---
30. Beaumaris Kitchen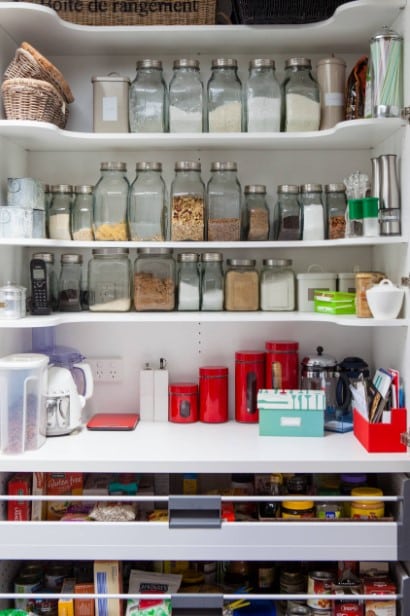 Beaumaris Kitchen by Jasmine McClelland Design
---
31. Norfolk Road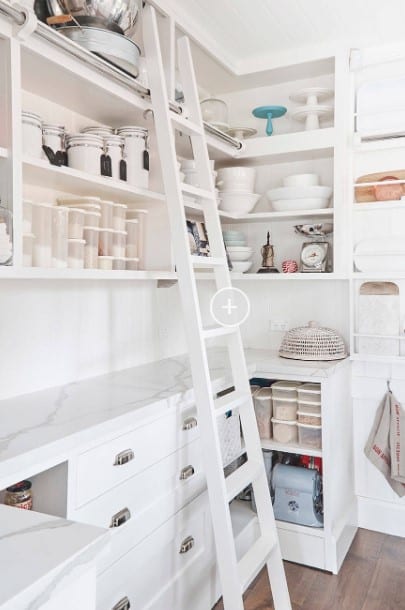 Norfolk Road by Provincial Kitchens
---
32. Bridgehampton Compound

Bridgehampton Compound by Michael Davis Design & Construction
---
33. Westport Country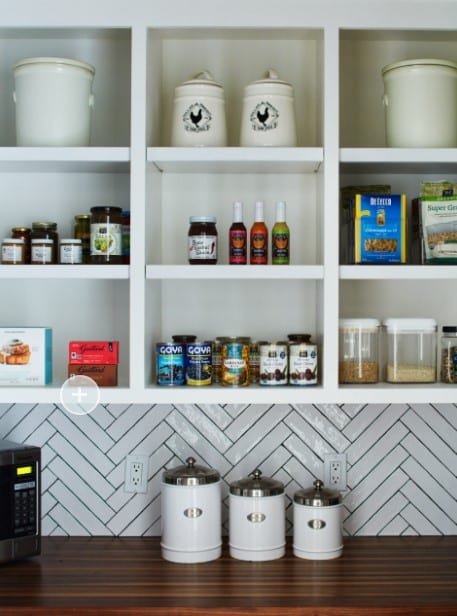 Westport Country by Christine Donner Kitchen Design Inc.
---
34. Farmhouse Effect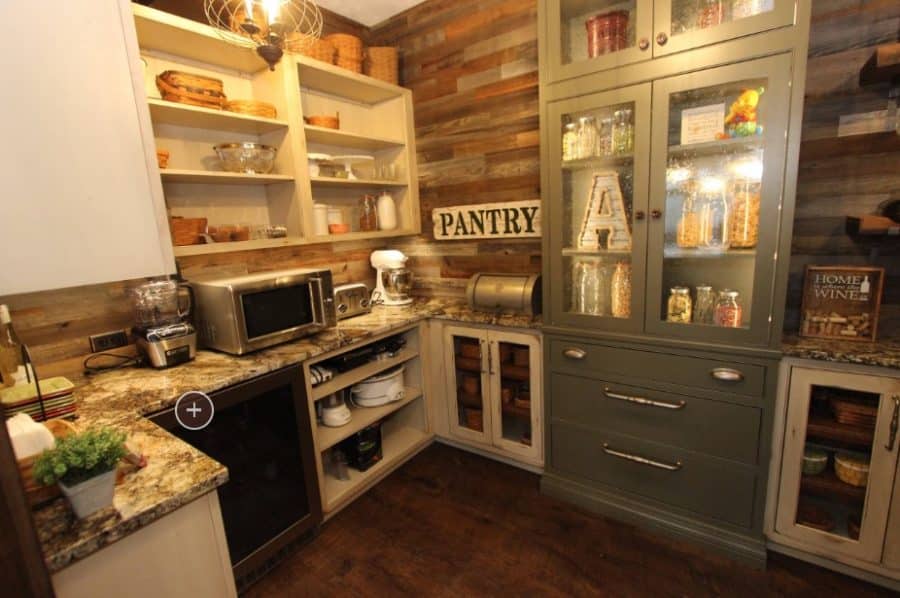 Farmhouse Effect by Kitchen & Bath Designs by Leah LLC
---
35. Modern French Country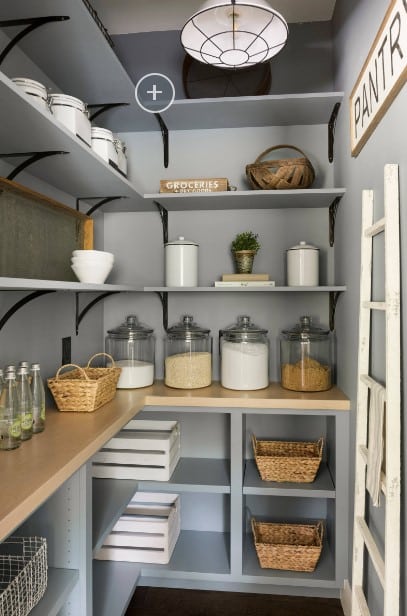 Modern French Country by Beautiful Chaos Interior Design and Styling
---
36. Walk-In Pantry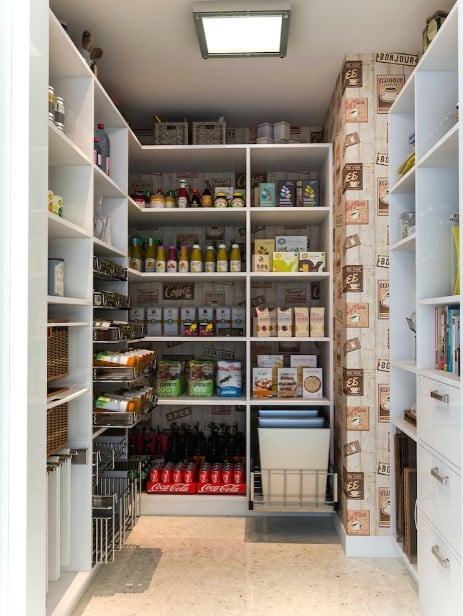 Walk-In Pantry by Closet Factory
---
37. 5658 Modern Home

5658 Modern Home by Duke Homes Inc
---
38. Traditional Pantry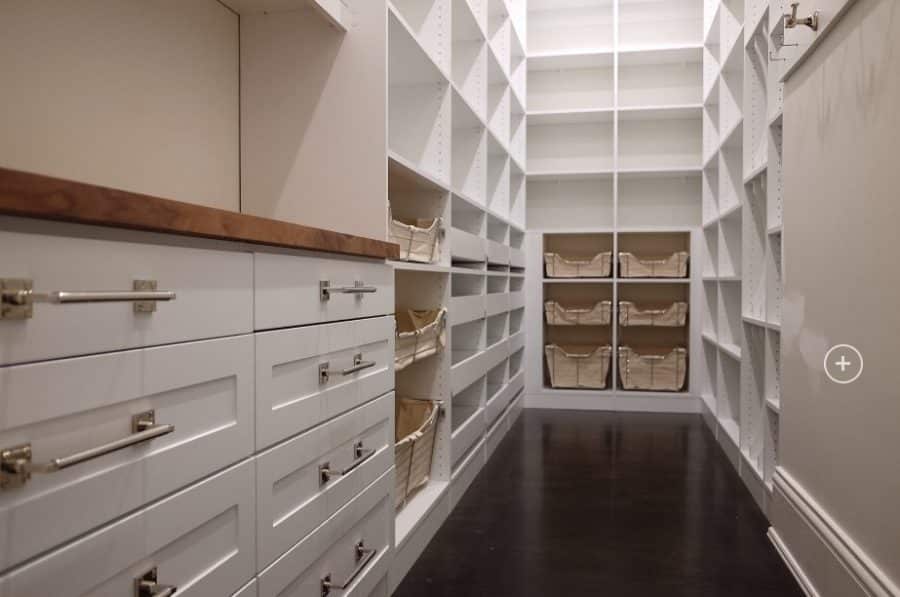 Traditional Pantry by Closet Furnishings and Cabinetry
---
39. Ulster County Modern Contemporary House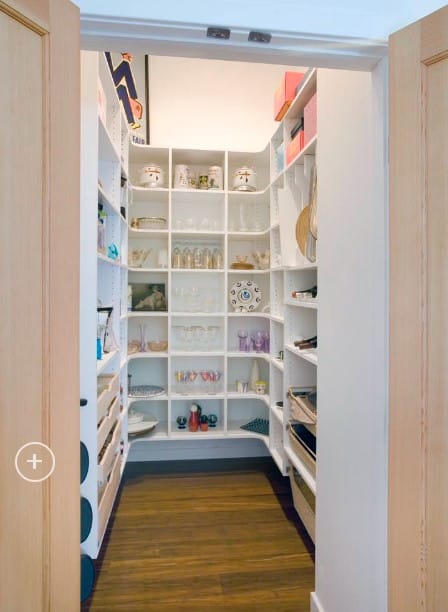 Ulster County Modern Contemporary House by Hoover Architecture PLLC
---
40. Farmhouse Kitchen Pantry Sacramento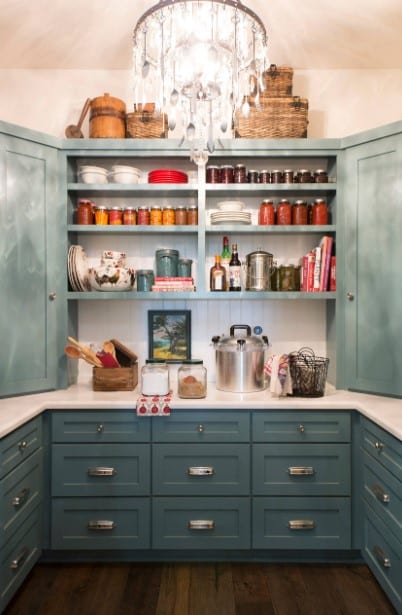 Farmhouse Kitchen Pantry Sacramento
---
41. Mill Creek Ridge Farmhouse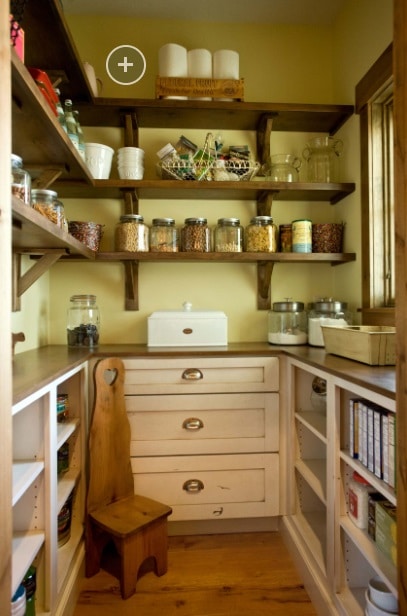 Mill Creek Ridge Farmhouse by Murphy & Co Design
---
Farmhouse Shelves For Sale
There are a variety of farmhouse style lighting categories listed below.
---
10 Farmhouse Pantry Decorating Ideas
The pantry is more important than ever. With the increase in energy prices, we need to change the way we store food. If you have a pantry in your home, it is time to redesign it and make the most out of it. Here are 10 farmhouse pantry design ideas you can easily implement.
Choice of Doors

If you think that your doors look too modern, start looking around for an old barn door. Not only are barn doors beautiful to look at, they are easy to restore.

When you don't want to go for a plain look, one idea you can try is to cover the door in decoupage using serviettes or remnants of wallpaper. Farmhouse pantry designs don't really come any easier than this.

Choice Of Shelves

When you know you are going to store fresh vegetables and fruit in your farmhouse pantry, investing in metal shelves is not a bad idea. Installing metal shelves or even metal shelves units, will make keeping your pantry clean easy.

All you have to do is to wipe them down with a good quality household cleaner. There are plenty of high quality house cleaning products to choose from. You can even make your own using ingredients such as salt, vinegar, and bicarbonate of soda that you have in your pantry.

Brown and White Designs

Are you thinking about using your pantry for something else than storing food? Making use of all of the spaces in your home is important. The pantry is a surprisingly versatile space. When you are not considering storing food in it, you should opt for a brown and white design.

Brown and white work well when you are planning to store outside toys and other items that are likely to get dirty in your pantry. Farmhouse pantry ideas do not have to be all about food storage. It is time we made the most out of this space.

The Shabby Chic Look

There is nothing that shouts farmhouse pantry more than the shabby and chic look. The best thing about this look is that it is truly versatile. It is a fantastic look to choose whether you want to store food items or other personal things. Perhaps you have a passion for haberdashery but have got nowhere to store your collection. The farmhouse pantry is the perfect choice.

When you need to store haberdashery items, there is no reason why they can't share space with canned goods.

Space Saving Shelves

If you are a keen home cook, you probably want to dedicate your pantry to storing everything you need to complete tasty dishes.

In that case, you should consider installing space saving shelves. There are very clever farmhouse pantry design ideas for space saving shelves. Check out local stores or make the most of online resources such as Pinterest for inspiration.

Old Wood

What about old wood? There is no reason why you can't use old wood for shelves. This is your chance to truly personalize your farmhouse pantry. You can pick up all wood almost anywhere – even on the beach.

However, when you are thinking about going down this route, check that the wood is dry. When you know it is dry, seal it with a good quality sealer. After the sealer has dried, lacquer your new shelves and they will last for a long time.

Going All White

An all white farmhouse kitchen pantry does look nice. The downside is that it is often harder to keep clean. If you are thinking about incorporating white in your design, it is best to make the shelves a different color.

When you work in the pantry, it is easy to spill stuff or for the shelves to start looking dirty. Using metal shelves or store bought shelves in contrasting colors will instantly make the pantry look clean.

Wallpapering the Pantry

One of the most popular farmhouse design ideas is to wallpaper the pantry. Yes, it does look nice but can make the pantry look small.

When you want to make your pantry look more spacious, why not restrict the use of wallpaper to the shelves? That will instantly give your pantry that farmhouse feel. You can even add a border of lace to enhance the effect of the wallpapered shelves.

Cupboard Doors

Although it is unusual to put cupboard doors in the pantry, it can be done. Perhaps you want to store groceries and other condiments that you don't want to come in contact with each other.

Using cupboard doors work well when you are storing spices that need a minimum exposure to light to keep their flavor. Measure up carefully and ask a local carpenter to help you to complete your project.

Natural Wood

Another popular idea is to use natural wood. Pine is not the best choice as it is a soft wood. MDF is another material you want to avoid as it gives off fumes that can have an impact on your food.

Find a natural hard wood such as oak. It is completely non-toxic and looks better with age.
---
How to Create a Farmhouse Style Pantry
There are a lot of farm home style pantry ideas you need to consider. It is not easy to put together the perfect rustic pantry design. With the ideas and tips below, you can incorporate farmhouse styles, rustic colors, and country themes with ease.
Farmhouse Pantry Styles
For your farmhouse pantry design, the styles to consider are rustic, antique, industrial and vintage. The main materials you can incorporate are wood, metal, and stone. With the wood, you will get the country style that fits perfectly to a farmhouse pantry. With metal, you can incorporate steel and iron for an industrial theme. Some stone material will fit in nicely as well.
Farmhouse Pantry Colors
To keep your farmhouse themed pantry looking nice and organized, it's important to carefully choose the color palette. For example, one shelf may be colored, the other neutral, etc. The colors that you might want to consider for your rustic-styled pantry are white, beige, brown, gray, and brown.
Farmhouse Pantry Design
Equip the pantry with cabinets, temporary storage boxes, and shelves all over the wall. If there is a plumbing and sewer installation, it is not a bad idea to install a sink or hide it completely. Put heavier things on the lower shelves and lighter items on the upper shelves. Store baskets and other things you do not constantly use in the cabinets. You can also incorporate baskets for storage.
Storing Food and Drinks in Your Pantry
Don't forget the beverage shelf for your liquor, wine, and beer if necessary. Bottles of wine are easy to place in the racks provided for this purpose. Other bottles can be stored on shelves or in the cabinets. It is a good idea to set up a smaller table or counter where cookies or bags can be placed after the groceries shopping. Use the pantry shelves to store the dishes that you do not often use or that do not fit in your kitchen cabinets.
Farmhouse Pantry Flooring
You can have your flooring flow directly into the pantry. If you already have beautiful hardwood floors, then keep the same flooring in your pantry. However, if you have tile floors in your kitchen, you can try different flooring styles in your custom pantry.
Arrangement and Organization
To help you get organized, stick labels with the name of the groceries or other things you plan to store on the shelves, baskets, and boxes. Even if you know and remember where everything is, it's not the same situation with other family members, which you will certainly sometimes send to bring you something from the pantry. Think about making a list of all the groceries in your pantry. Enter how many groceries you have, the deadlines, things you need to buy, etc. Hang the list on the door and update every week before planning your weekly menu and creating your shopping list.
Leave Some Free Space
The last step is possibly the hardest part. For a well-organized pantry, it is important to leave some free space inside. Don't clutter up the shelves and leave enough space between the elements, because everything will look nicer, more organized, and easier to use. Remove all unnecessary packaging and boxes, and you can put light between the shelves to make space look more open and spacious.
In Summary
Farmhouse pantry design ideas are pretty limitless. Make sure that you do your research before you get started when it comes to the materials you are thinking of using.
First, ask yourself what you want from that space and what it serves you most. We use pantries for things that are often used while cooking, but we don't have space for them in the kitchen. Think about filling your pantry with shelves and drawers in a way that will be most useful to you.