One of the best ways to get inspiration for your farm home is to look at farmhouse designs and farmhouse decor ideas. When you want to improve an individual room like your living room, viewing farmhouse living room designs can help you create the living room of your dreams.
We put together some of our favorite farm home living rooms so you can see unique ideas and beautiful decor. There are small changes you can make that can go a long way. From finding the right throw blanket to incorporating farmhouse serving trays, you can have a rustic paradise to relax in every single evening.
60 Farmhouse Living Room Designs
We pulled a variety of farmhouse themed living room designs and ideas from designers, architects, and builders on Houzz. We have credited each photo and you can click them to learn more about each design and designer.
1. Cedar Gate Stable
Design by Cole Harris Associates LLC
---
2. Charming Farmhouse in Safety Harbor
Design by Joe Traina Photography
---
3. Ferguson Project
Design by Lucy and Company
---
4. Galena Residence
Design by KP Designs & Associates LLC
---
5. Modern English Farmhouse Hillsboro, Oregon
Design by Westlake Development Group, LLC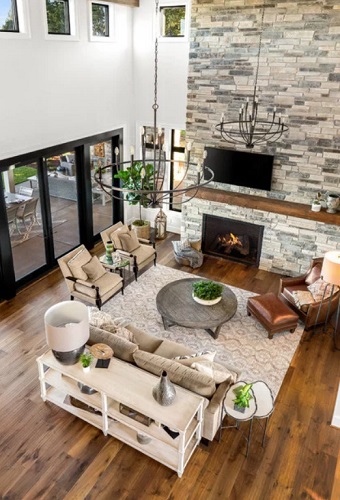 See this living room here
---
6. Modern Farmhouse 2019 Dry Creek Parade
Design by Solitude Homes
---
7. Modern Farmhouse-Upstate Living Room
Design by Crisp Architects
---
8. Stanwich Road Residence
Design by Voce Di ID
---
9. Tasset Residence
Design by AB Design Elements, LLC
---
10. The Mountain Green Modern Farmhouse
Design by Habitations Residential Design Group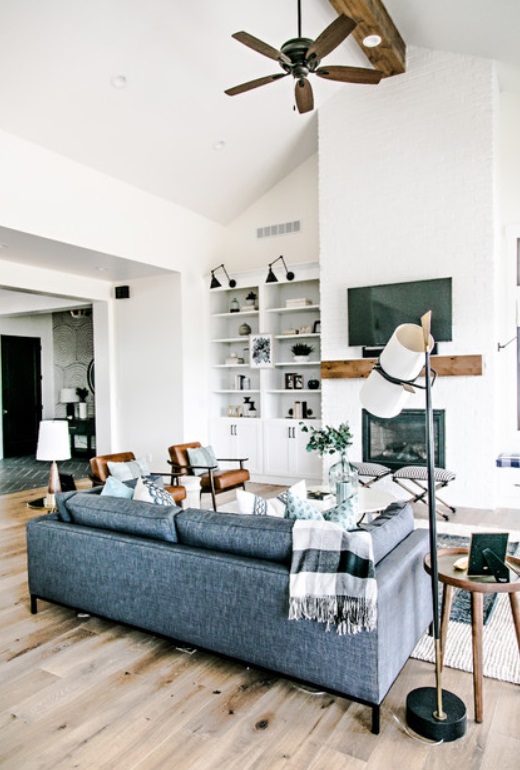 See this living room here
---
11. Modern Farmhouse with views of Prior Lake
Design by Sustainable Nine Design + Build

See this living room here
---
12. The Ramble – #209
Design by PettlerWorks Architecture

See this living room here
---
13. Meridian, Idaho Clark Falls Modern Farmhouse
Design by Gardner Homes
---
14. Great Room
Design by Forte Building Group, LLC
---
15. Modern Farmhouse Project
Design by The Fox Group
---
16. Family Game Room
Design by Leslie Harris-Keane Interior Design
---
17. Farmhouse Themed Living Room Austin
---
18. Farmhouse Living Room
Design by Moore House Design
---
19. Chevron Shiplap Fireplace with Custom Wood Mantel
Design by CJC Interiors
---
20. Project Jojo
Design by Abby at Lee Douglas Interiors
---
21. Living Room with Clock
Design by rigby & mac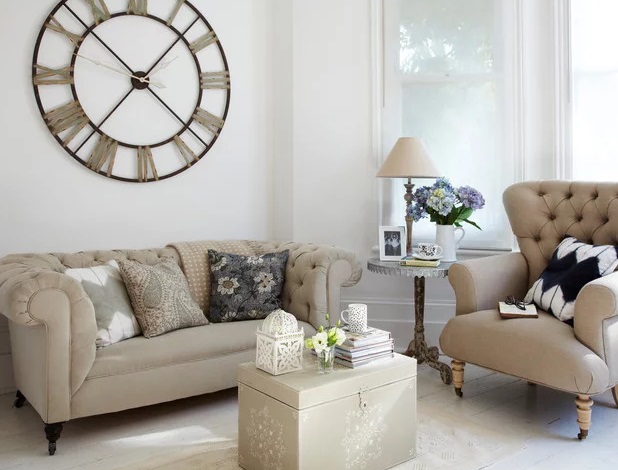 See this living room here
---
22. Lake House
Design by Crisp Architects
---
23. 2017 ARDA – Custom Homes – Royal Oaks Design
Design by AIBD – American Institute of Building Design
---
24. Westport Renovation-Turkey Hill House
Design by Sellars Lathrop Architects, llc
---
25. A Farmhouse In The Middle of Florida
Design by Buffalo Lumber Company Inc.
---
26. Alturas Homes Spring Parade 2017
Design by Alturas Homes
---
27. Estate – Peoa, Utah
Design by Magleby Construction
---
28. Rustic Sunroom
Design by Ally Whalen Design
---
29. Family Room
Design by Manorbrook Homes
---
30. Virginia-Highland Whole House Renovation & Addition
Design by Alair Homes Decatur
---
31. Country French Magazine
Design by Katie Scott Design
---
32. Warm and Cozy
Design by Greentech Homes Chattanooga
---
33. Great Room
Design by Joseph Farrell Architecture
---
34. Sonoma Farmhouse
Design by Jennifer Tulley Architects
---
35. Family Room
Design by Christopher Jones Photography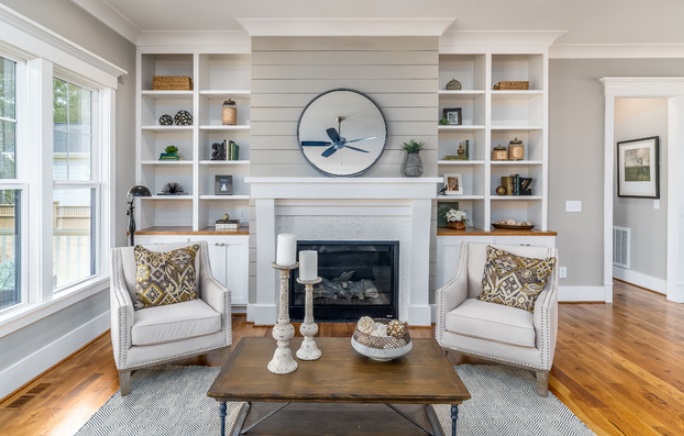 See this living room here
---
36. Modern Hill Country Farmhouse
Design by Jennifer Garner Interiors
---
37. New Jersey Horse Farm
Design by Taconic Builders Inc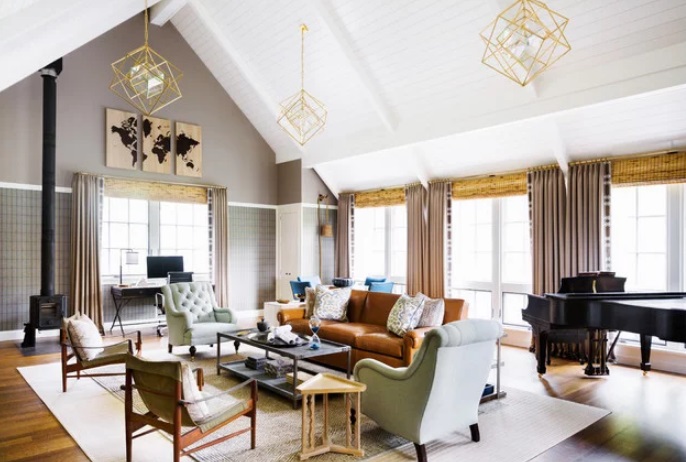 See this living room here
---
38. Modern Lake House
Design by Studio McGee
---
39. Alamo, CA. Farmhouse
Design by LMK Interiors
---
40. Tupper Lake Residence
Design by Dillon Kyle Architects (DKA)
---
41. SP Urban Farmhouse 1
Design by Dandeneau Architecture P.L.L.C.
---
42. Angel Bay – Lake Travis
Design by AE Interiors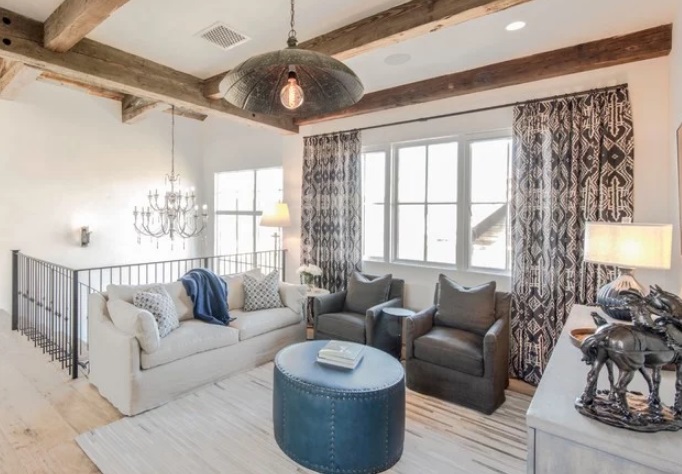 See this living room here
---
43. Red Ledges
Design by Studio McGee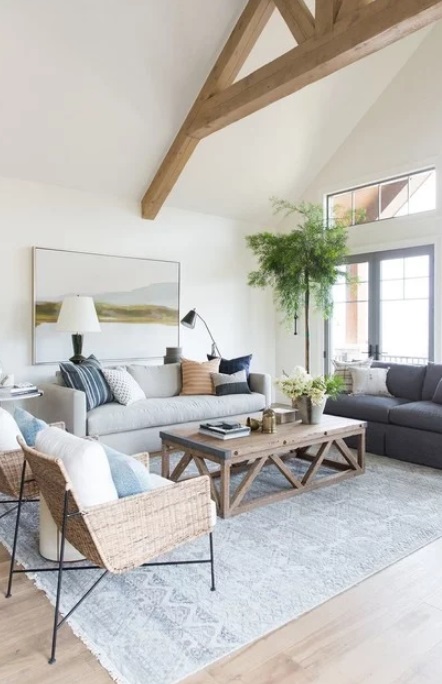 See this living room here
---
44. Alegria
Design by Dana Webber Architect LLC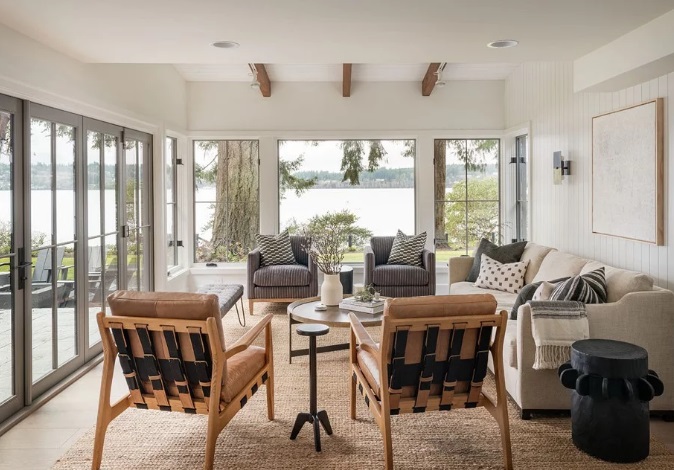 See this living room here
---
45. North Hollywood Craftman Style Home
Design by AV Home Staging Services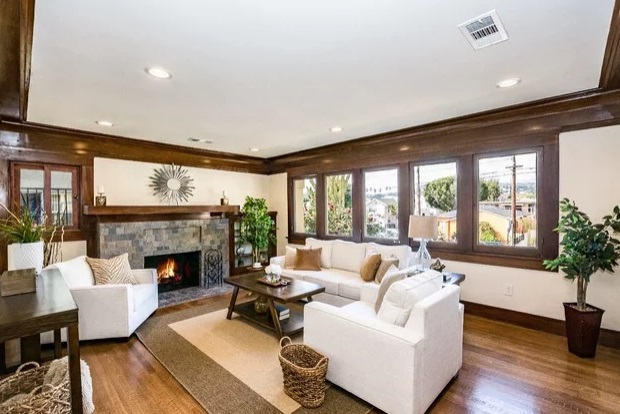 See this living room here
---
46. Farmhouse Living Room New York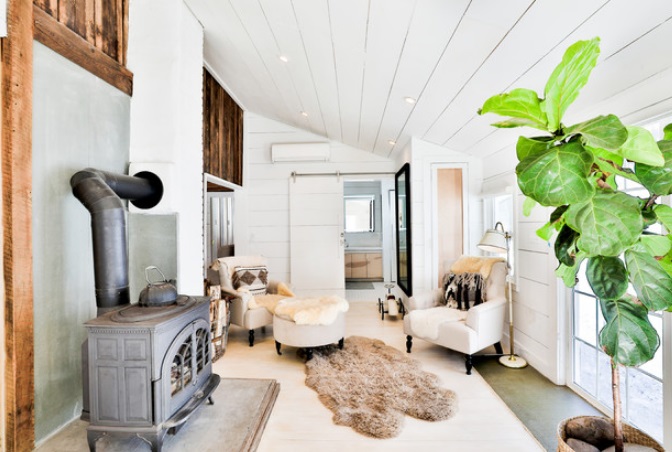 See this living room here
---
47. Farmhouse Living Room Denver
---
48. White Living Room
Design by Heartwood Renovations Limited
---
49. Keeping Room 2
Design by Pike Properties
---
50. Sonoma
Design by Vierra Fine Homes
---
51. California Custom Ranch Estate
Design by Murfey Company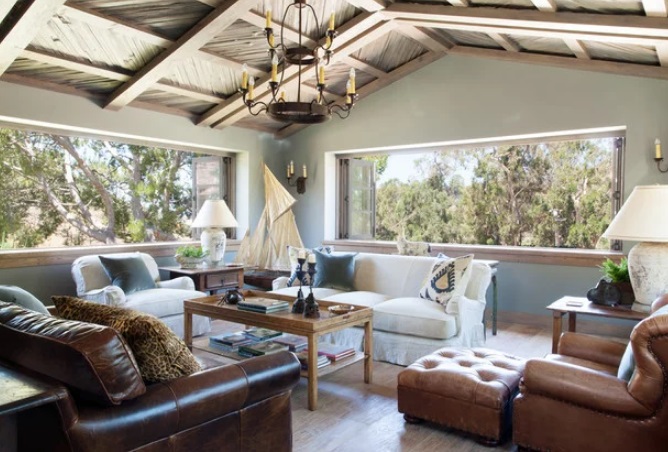 See this living room here
---
52. Napa Modern Farmhouse
Design by Michael Hospelt Photography
---
53. Beautiful Chaos Farmhouse
Design by Beautiful Chaos Interior Design & Styling
---
54. The Cottage
Design by LOCKHART SUVER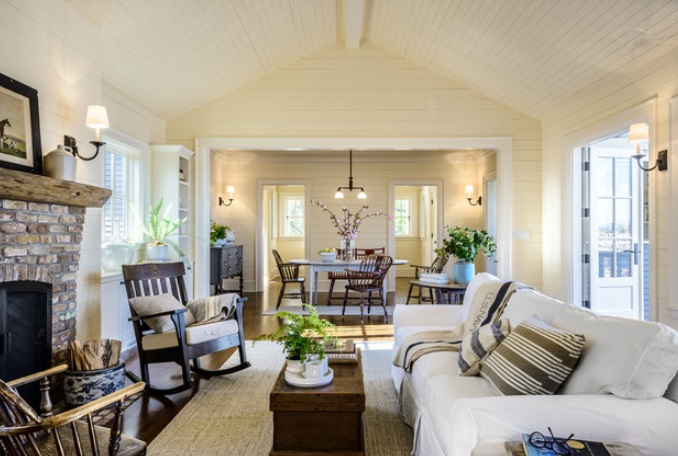 See this living room here
---
55. Modern Farmhouse Living Room with Shiplap Fireplace
Design by CJC Interiors

See this living room here
---
56. Sarah Richardson's Off The Grid Home
Design by Robinson Residential Design
---
57. Lake Minnetonka Dreamhome
Design by Engstrom Wood Products
---
58. Double Diamond Cabinets Family Room
Design by The Suite Shoppe Interiors
---
59. The Mountain Green Modern Farmhouse Living Room
Design by Habitations Residential Design Group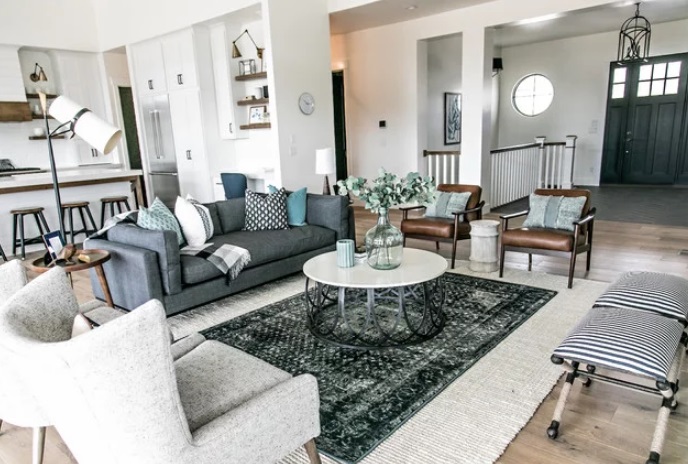 See this living room here
---
60. Milton Renovation
Design by New River Building Co.
---
Farmhouse Living Room Decorations and Furniture For Sale
There are a variety of farmhouse style living room categories listed below.
---
10 Farmhouse Living Room Decorating Ideas
Are you looking for farmhouse living room design ideas? Then you're in the right place! Today I'll take you through some of the best farmhouse design ideas to take your living room from old and tired to country and cozy in record time. Sound good? Then let's get down to business, shall we?
Color Scheme

Whenever you think 'farmhouse colors', you probably think white and brown, right? And we usually see this in the materials that are used and the paints on the wall. White walls are common, and wood is the most used material in farmhouse decor, so make sure you pick up those colors in the furnishings and accessories you choose to match. That doesn't mean you can't have pops of color – but keep them muted. Pastels are in right now, so by including these in your farmhouse-style living room, you'll be able to tick two big design trend boxes off right away.

Using Old Wood

I mentioned wood, and without being ageist, the older the better! The more rustic the wood used in farmhouse design, the better the finished look will be. Consider shopping at thrift stores or heading to antique stores that sell older furniture. Even if you choose an old wooden coffee table or just one spindly wooden chair, the way it'll change your room will be massive. Failing old wood, at least opt for natural woods that are newer, but have been deliberately aged.

Mixing In Metal

Where possible, pick up accessories that have been made of galvanized metal. The reason this is so important is that galvanized metal (steel especially) looks old and almost rusty, without actually being rusty. Rust isn't a good look if it isn't deliberate, but by purchasing a few galvanized steel accessories (or even using it for statement shelving sparingly) you'll be able to create the feeling of an aged living space, but in a really fun, modern way.

Country Comforts

Repeat after me: 'Country comforts are key!'. That's right, you need to look out for country pillows, throws, blankets, rugs. These things all soften your living room. When wood and white walls are your baseline, you need to inject comfort into the home, and these comfort accessories are all perfect for doing just that. In terms of colors, think pastels again, or even off-whites and creams, or different shades of brown to the most used wood in your room. The key is contrast here.

Lighting Is Key

Sure, comfort is key, and so is contrast, but lighting is also. (There's a lot of key design trends in farmhouse decor, what can I tell you). For lighting, you want the fittings to look vintage, so try to find lampshades etc, that look a little aged or vintage in style. But it isn't just the way your lighting looks that's important, it's the way it makes the space feel. Opt for bulbs that emit a warm yellow glow, as opposed to a more modern white light. It'll make the place cozier and fit with the farmhouse feel much better.

Shabby Really Is Chic

Shabby chic really is the epitome of farmhouse interior design. I've been touching on it all the way through, but it deserves an honorable mention in its own right. To achieve a shabby chic look, you have to pick furniture and soft furnishings that look a little rough around the edges. Not dirty, or damaged, or destroyed – just worn, aged, timeless. It's easy to get shabby chic wrong and make the place look a mess, but by aiming for rustic and stylish, you won't go far wrong.

Shiplap Ideas

For those that are unfamiliar with shiplap, it's basically a really affordable way of lining your walls with wooden boards to create a cladding. It's common on the exterior of many farmhouse homes, but it works just as well indoors, too. Opt for white shiplap if you're going to do the entire room, but if you're just thinking of a shiplap feature wall, then it can be a good idea to opt for natural wood, so long as it's darker. You should handle light wood shiplap with care, because you risk making your living room look like a Swiss sauna…

Cozy Clutter

Clutter doesn't always mean messy. Look at any farmhouse's interior design, and you'll see a LOT of accessories. Pictures on the wall, flowers in vases, soft furnishings galore, even the odd candle or two on the coffee table. The point is, you can make the space feel homely and lived in. Gone are the days of crisp, clean lines, and clutter hidden away. We don't want show homes any more; we want comfort. And cozy clutter is great for doing that.

Open Shelving

Following on from the idea that hiding things away doesn't really fit with farmhouse interior design, consider open shelving. Specifically, open wood shelving. You can even do a DIY project here with an old piece of wood. Something thick and sturdy enough to support your odds and ends, maybe even some books. This sort of statement shelving is big in farmhouses, so do your best to recreate it at home. We know now that shelves can act as decor, not just storage solutions, so make it work for you in your living room!

Vintage Furniture

And finally, vintage furniture. Yes, this comes into the shabby chic/rustic points from earlier, but when selecting furniture, don't just choose any old furniture. What you really want are for the colors and design of the statement pieces (your couch, armchairs, etc) to fit the theme. Creams, off whites, browns – they'll all work in terms of color, but think about their lines too. Curves soften a space, which is exactly what you'll need in a farmhouse living room, so opt for furniture with curves that draw the eye and make the space more comfortable.
---
Popular Farmhouse Living Room Styles
If the designs above are not enough, we included some additional styles and themes that are popular below. As the farm home theme grows across the United States and across the world, you can use some of the themes in your own home.
Modern Farmhouse Living Room
Modern and farmhouse can give you the opportunity to combine old world rustic charm with new contemporary styles. Modern designs are clean, simplistic, and elegant. Farmhouse designs are rustic and incorporate antiques and country themes. With the right wood furniture, colors like white and brown, and industrial styles, you can create a modern living room in a farmhouse theme.
Farmhouse Living Room Colors
The main colors you will find include white, brown, and gray. There will be light and dark variations on these colors, but they are the main farmhouse colors you find in any room. For additional colors, some other options will includes blue shades and red shades around each room as well.
Farmhouse Living Room Curtains and Drapes
One of the main aspects of a living room will be the curtains. You need window treatments throughout your home, and curtains, drapes, and valances can be used throughout every room. We listed some of our favorite farmhouse curtains for a living room below, which includes different colors and designs.
In Summary
Your farmhouse living room needs the right wall decor, curtains, sofas, area rugs, and paint colors. If you use the ideas above, you can create the living room of your dreams. After all, we want a relaxing and cozy spot to unwind after a long day. Why not make the living room one of the focal points of your farmhouse.
There you have it – over 100 beautiful farmhouse living room design ideas that'll renew your living space and make it feel as country, cozy, and comfortable as can be! What's not to love?