If you have recently bought a farm home, moved into an apartment, or just want to remodel your interior, you definitely want a beautiful bathroom. We love farmhouse themed bathrooms, which is why we put together a huge list of farmhouse bathroom ideas and designs for your inspiration.

30 Farmhouse Themed Bathrooms
Below, you will find a huge collection of farmhouse bathroom designs. We pulled all of the ideas from Houzz. You can click on each picture to learn more about the design and the designer.
#1 – Contemporary Farmhouse Bathroom
---
#2 – White With a Black Tub
---
#3 – Farmhouse Rustic Bathroom Design
---
#4 – Shabby Chic Farmhouse Bathroom
---
#5 – Modern Farmhouse Bathroom Design
---
#6 – Shiplap Walls Bathroom Design
---
#7 – Farmhouse Green Bathroom Walls
---
#8 – Freestanding Farm Home Tub
---
#9 – White Cottage Farmhouse Bathroom
---
#10 – Brown Wood Mirrors
---
#11 – Country Farmhouse Bathroom
---
#12 – Small Farmhouse Themed Bathroom
---
#13 – Hidden Hills View Showcase Home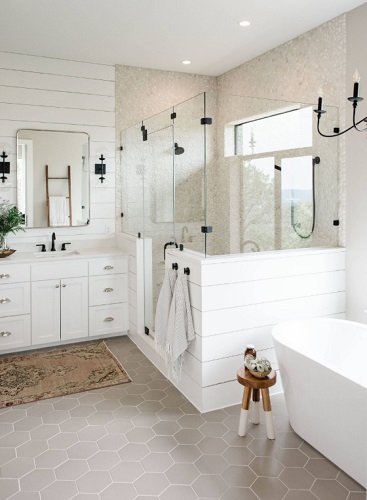 Hidden Hills View Showcase Home by Younger Homes
---
#14 – North Haven

North Haven by Timothy Godbold Ltd
---
#15 – Fixer Upper-Inspired Modern Farmhouse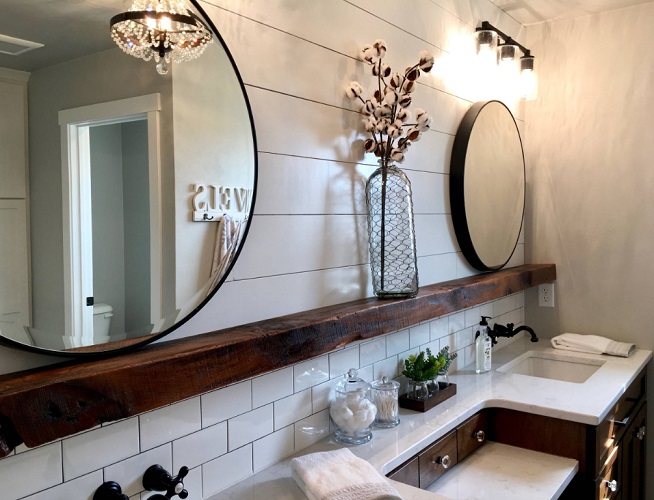 Fixer Upper-Inspired Modern Farmhouse by Cypress Homes Inc
---
#16 – Cavender Basement

Cavender Basement by Hart & Lock Design
---
#17 – Modern Farmhouse Bathroom

Modern Farmhouse Bathroom by Jenna Sue Design Co.
---
#18 – Blessings Golf Course Home

Blessings Golf Course Home by Celtic Custom Homes
---
#19 – Farmhouse Bath

Farmhouse Bath by HAVEN design+building llc
---
#20 – Modern Farmhouse-Upstate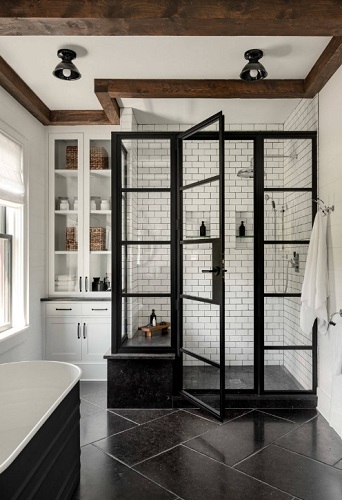 Modern Farmhouse-Upstate by Crisp Architects
---
#21 – Modern Farmhouse Bathroom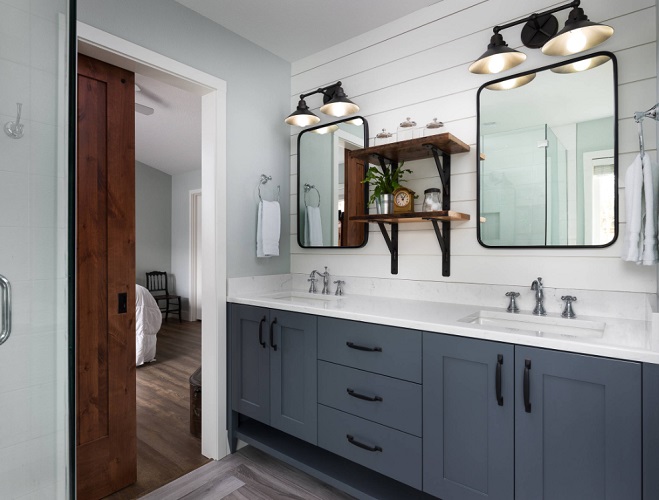 Modern Farmhouse by Rockwood Cabinetry
---
#22 – Orinda Modern Farmhouse

Orinda Modern Farmhouse by Bay Vista Development
---
#23 – Riverfront Residence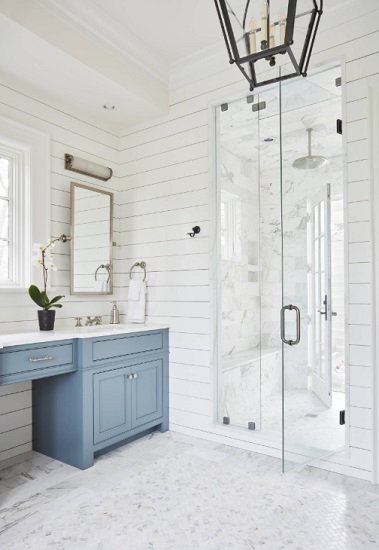 Riverfront Residence by 3north
---
#24 – Elmhurst Cottage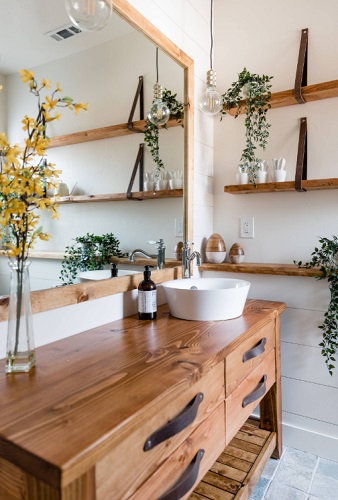 Elmhurst Cottage by Novoya Design + Construction
---
#25 – Modern Farmhouse-Upstate 2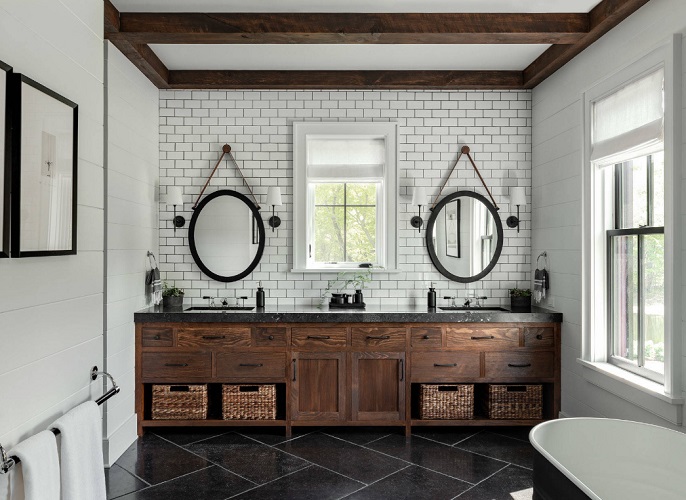 Modern Farmhouse-Upstate 2 by Crisp Architects
---
#26 – Rough Hollow Parade Home 2017

Rough Hollow Parade Home 2017 by Geschke Group Architecture
---
#27 – Modern Farmhouse Master Bath

Modern Farmhouse Master Bath by Gardner Fox Associates, Inc
---
#28 – Raleigh Modern Farm Bath Renovation

Raleigh Modern Farm Bath Renovation by Clearcut Construction, Inc
---
#29 – Stowe Vermont Traditional Country Home

Stowe Vermont Traditional Country Home by Patterson and Smith Construction, Inc.
---
#30 – Luxury Farmhouse Bathroom

Luxury Farmhouse Bathroom by Juxtaposed Interiors
---
Farmhouse Bathroom Decorations and Lighting
There are a variety of farmhouse style bathroom product categories listed below.
---
15 Farmhouse Bathroom Decorating Ideas
When you think of a farmhouse-style design, the cozy, simple, and rustic charm will always be present. This style does not only apply to your living room, kitchen, or dining area; you can also incorporate this relaxing ambiance into your bathroom . Bathrooms have a reputation for being the least stylish section of the house. Still, with a bit of ingenuity and a dash of farmhouse magic, you can elevate your bathroom to become one of the most interesting areas of your home.
There are some ideas below as you begin to decorate, paint, and add furniture to your farmhouse style bathroom.
Old Retro Faucet and Freestanding Bathtubs

A freestanding bathtub should be the centerpiece of a farmhouse bathroom. Great for creating a look that will withstand the test of time and bring an authentic retro feel.

It really provides a relaxing feeling, especially at the end of a busy day. What you can't imagine without this is a retro faucet, which will complete the experience of ancient times.

Washbasin

The washbasin is another essential center of the bathroom because many routine activities take place in this small area on a daily basis. With details like an old mirror, a soap holder, some plants, ornament, this center can really be your oasis. If you incorporate some rustic themes in your bathroom, you can start with the sink and the faucet.

The sink is best to be made of some metal that matches the color of the wood.

Wicker Baskets

Organize all the little things you keep in the bathroom with farmhouse-style decorative baskets. Baskets can be of different sizes and shapes, and certainly, each will fit perfectly. This way your bathroom will always be tidy and it will be easier for you to find your things.

Colors, Materials, and Textures

Farmhouse-style colors are usually white, cream, gray, caramel, lilac-blue, forest or sage green, sunny yellow, warm brown. Light and shades can expand the space, and large windows and cozy pieces of furniture create a vibrant atmosphere. Patterns of fabric, curtains, rugs can be either monochrome without patterns, or with large and small flowers. Adding texture to the walls using interesting colors or floral wallpapers gives interesting effects that give the space an old-fashioned look and feel.

The hallmarks of farmhouse design are natural materials, such as stone and wood, and an accentuated texture. Wood furniture should be slightly less treated.

Farmhouse Towel Ladders

You can use a ladder as a hanger for towels. Find some that are the right size, and just lean them against the wall. If you opt for two-pointed ladders, you can put a few candles or plants on them.

If you wish, you can paint them but also leave them looking natural. In any case, it will fit the farmhouse style perfectly.

Whether you only want minor upgrades or a full-on renovation, a farmhouse-themed bathroom is an ideal motif for those people on a budget as this style uses a lot of repurposing elements that you can easily find around your house. From rustic wood interiors to withered statement pieces, this list will surely give you a hint to transform your dull-looking bathroom into an aesthetically pleasing space with these farmhouse bathroom ideas.

Wood and White Minimalist Style

For quite some time, the wood and white style has been popular. This duo screams minimalism, so you may go for a clean white bathroom with just the right amount of texture from woodsy materials around the vanity and shelves to keep your bathroom design from being flat and dull. You can achieve the farmhouse feelings you prefer with these two.

Wooden Floating Shelves

A wooden floating shelf storage area will help you organize your bathroom stylishly. The heavy-duty hanging rope enhances the rustic appearance. This sign is available in a variety of base colors as well as typeface colors.

Add a Barn Door

This only makes sense if your bedroom also has a farmhouse feel. This will not be out of place and can also be a statement piece for both areas. The warm wood tones will make your bathroom feel extremely inviting, and the vintage features feel timeless without being stuffy.

Use a Natural Color Palette

White is not the only color in this palette; you can use natural colors like greens, creamy whites, blues, and simple textures that can go well with the interior of your bathroom.

Shiplap Walled Bathroom

Shiplap screams farmhouse vibes. You can go for a look of white shiplap paneling on walls, gray-tile black-floor, a white vanity and furniture-like cabinets. Shiplap is a brilliant way to add a lot of textures to your bathroom without overwhelming it or making it feel too shabby chic when combined with other more modern features.

Incorporate a Touch of Texture

Adding textile to your bathroom aesthetics is a great way to add a cozy vibe. A vintage rug or a Turkish towel can create texture while also providing artistic value. Adding contrast with textured walls like an exposed brick wall, which is associated with rural living, is contrasted with the tidy square porcelain tiles and bright brass contemporary shower. Then herringbone floor and rustic stool are the finishing touches.

Bring in Some Accessories

What gives a farmhouse vibe is determined not only by architectural elements but also by accessories. You may add a bit of rustic atmosphere to your bathroom by repurposing some items around your house, such as a vintage vase, woven basket, or a mason jar.

Mason Jar Light Fixtures

Innovative lighting, such as mason jar light fixtures will be the room's centerpiece. This will give your space a sense of individuality. Vintage jars are combined with weathered wood and industrial pipes to create a one-of-a-kind bathroom lighting fixture.

Patterned Floor Tiles

For your flooring, you can go with a farmhouse-style tile. Subway tile is a timeless alternative that will give your bathroom a contemporary feel. Natural wood porcelain tile is another option. Just make sure that to avoid slipping, go for one that has high slip resistance.

Include a Claw-foot Bathtub

The claw-foot bathtub is at the center of every excellent farmhouse style bathroom, and it finds space even in the smallest of them due to its ease of installation.
---
In Summary
It may be used in various styles, from sleek, modern bathrooms to comfortable, rustic bathrooms and everything in between.