Floating farmhouse shelves can be a beautiful feature in any room. From the kitchen, to the hallway and even to the bathroom, their simplicity coupled with the beauty of warm, distressed, antique wood makes them a great design choice to bring something special to your home. Rustic floating shelves are a powerful design choice and they can give a space warmth and a lot of charm.

Farmhouse Floating Shelves
---
How to Choose Floating Shelves
Nowadays, there are so many ways you can make a design concept come to life in your home, from fabrics, patterns, colors, materials, lighting and so much more. That is why you should consider how your shelving choice could not only become part of your theme, but also perhaps the feature piece
In addition, they are super versatile, working well with a range of design themes such as industrial, country, rustic and of course farmhouse. We listed some of our favorite floating shelves above that you will love. We give some helpful tips and ideas below when you start shopping for farmhouse floating shelves.
What is a Floating Shelf
Floating shelves give the appearance that nothing is holding them on to the wall. Generally, screws or brackets are installed to a wall in your home. Then, your shelf will sit on the screws or the bracket, which makes it look like they are floating on your wall, hence the name.
Farmhouse floating shelves usually feature distressed wood and different shades of white and brown.
Farmhouse Shelf Styles
The special part of rustic shelves is the way they embrace the imperfections in the wood, the history, lines, knots and color tones. That is what makes the farmhouse theme unique. Grainy, rustic wood with distressed styles will make any room cozy.
Shelf Sizes For Your Wall
You have a huge range of options to choose from and varying lengths, widths and depths so you can find the perfect shelf for your home.
Why Choose Farmhouse Floating Shelves
It's important to note that what makes farmhouse floating shelves extra special is that as there is no bracket. Your eyes and attention rest solely on the shelf itself. The beauty of the wood and its history is in stark contrast to the simplicity of the design in which the shelf will appear to float on your wall with no support. This can be such a powerful design feature and can bring together the rustic and modern themes beautifully.
Farmhouse Floating Shelf Inspiration
To help you in your search for the perfect rustic floating shelves, we have compiled a list of some of our favorite designs. We hope these pictures will inspire you for your next project. All of the pictures are pulled from Houzz and you can click each photo to learn about each designer.
Basement Bar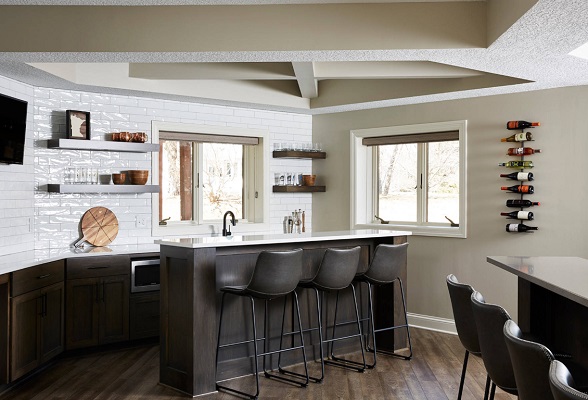 Basement Bar by R|House Design Build
---
Navy is a Neutral Ranch Remodel & Addition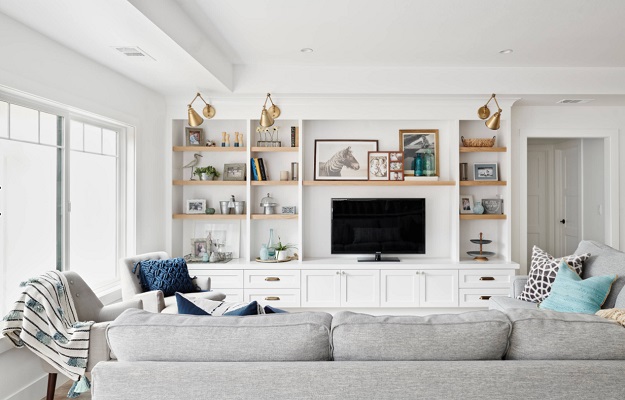 Navy is a Neutral Ranch Remodel & Addition by KBG Design
---
Streyffeler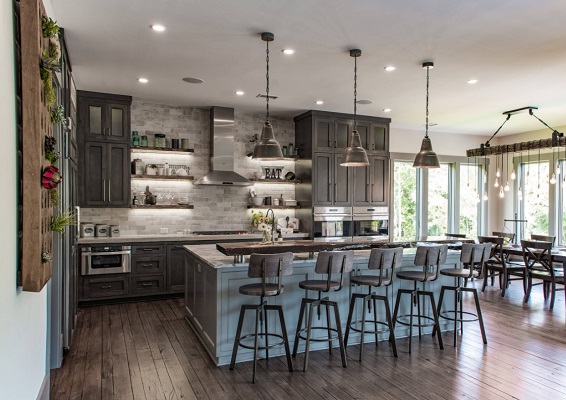 Streyffeler by Crosby Creations Drafting & Design Services, LLC
---
Spanish Modern Bathroom Resort Style

Spanish Modern Bathroom Resort Style by Savvy Interiors
---
In Summary
Hopefully, you were able to find the floating shelf to fit the style of your home. Choosing the best farmhouse wall decor and farmhouse shelves can be very difficult, so we try to combine our favorite products onto one page. Thank you for visiting our website today!