We decided to put together our favorite fireclay sinks in addition to design ideas, inspiration, and how to choose the right sink. Since we understand everything there is to know about farmhouse sinks in general, we did our best to pull the best options made out of fireclay.
Farmhouse Fireclay Sinks
We have a list of our fireclay farm sinks for sale. You might see some repeats to the options above, but they are all beautiful, affordable, and wonderful in any country kitchen. Whether you have farmhouse beach decor or cottage decor, a fireclay apron front sink will fit perfect in a kitchen.


---
We love to show you inspiration with farmhouse sinks because it can give you design ideas. If you aren't great with color scheme or interior design, you can steal from the images below. In addition, a lot of the fireclay farmhouse sinks that are shown can be purchased if you click through the image. All of the designers are noted under each picture if applicable.
---
Fireclay Farmhouse Sink #1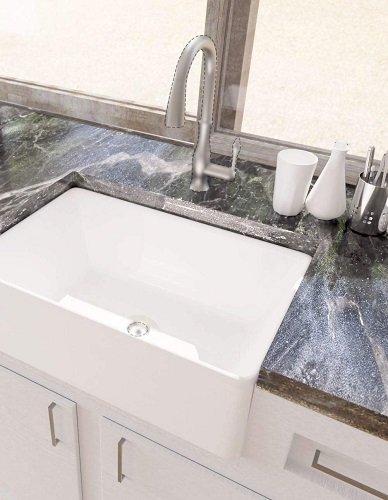 Fireclay Farmhouse Kitchen Sink
---
Fireclay Farmhouse Sink #2

Houzer Platus Series Fireclay Sink
---
Fireclay Farmhouse Sink #3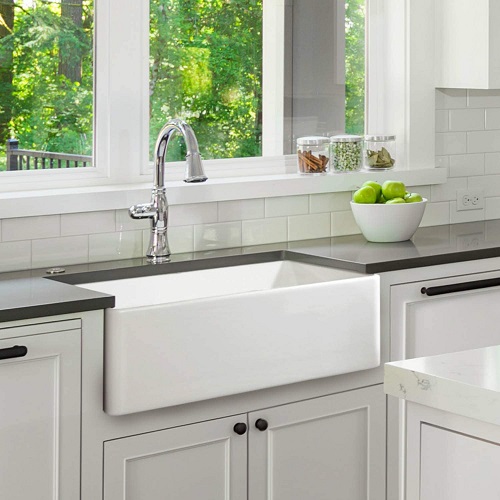 Reversible Fireclay Farmhouse 30″ Sink
---
Fireclay Farmhouse Sink #4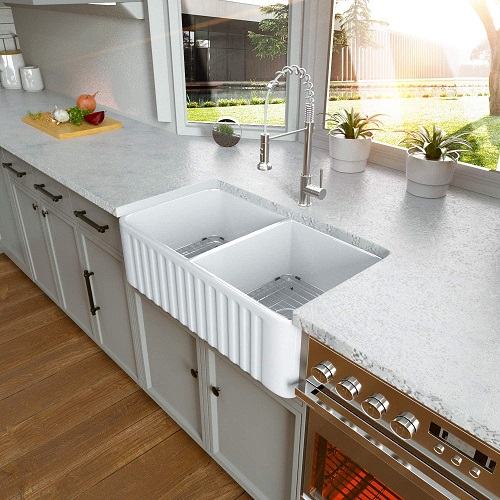 Kichae 33 Inch White Farm Fireclay Sink
---
Fireclay Farmhouse Sink #5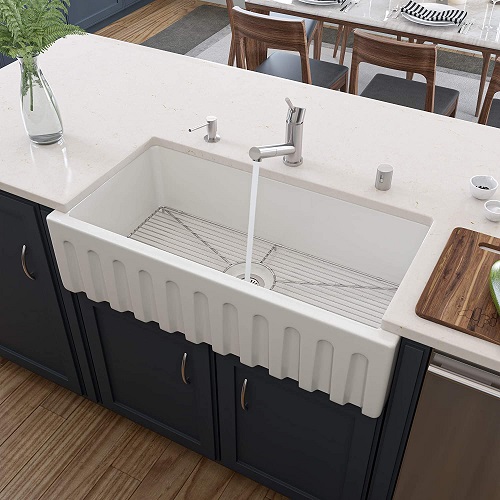 ALFI Brand 36″ Fireclay Farmhouse Sink
---
How to Choose Fireclay Farmhouse Sinks
When you are searching for the best fireclay farmhouse sinks for your kitchen, it can be difficult to go through all the options. From sink sizing to quality to price, there is a lot for consumers to consider before they make a purchase. So what are the most important things to keep in mind when you are buying farmhouse fireclay sinks?
What is Fireclay?
Fire clay is a material used for the creation of certain farmhouse sinks. Fire clay is a mud with a high amount of alumina content. In order to be considered "fire clay" the mud must be able to withstand temperatures of 1,515 °C or 2,759 °F. Fireclay farm sinks are made by heating up fire clay to high temperatures, which creates a durable and beautiful final sink.
In Summary
If you are looking for a fireclay farmhouse sink or you just need some inspiration for your kitchen, you won't need to look anywhere else. Our goal is to provide you with the best farmhouse sinks you can buy, regardless of price, color, style, or design. Please let us know if you need any help finding a fireclay sink and we can do our best to help.