If you're a fan of rustic design and style, you will adore farmhouse corner shelves. Rustic corner shelves can add that country feel to your house and provide some extra storage space. You can show off your favorite collectibles, photos of your loved ones, house plants, and fabulous scented candles. These shelves will fit in the corner of your living room, office, bathroom, and any other room in your household.

Farmhouse Corner Shelves
---
How to Choose Farmhouse Corner Shelves
Rustic corner shelves will add that shabby chic look to your house while providing a unique farmhouse feel to your interior design. One issue you may run into is finding the best rustic corner shelves for your home. We give some helpful tips and ideas below when you are choosing corner shelves.
You can use them for many purposes such as storing books, displaying items, keeping food items, organizing toiletries, and many others. You will find a huge list of farm home style corner shelves for sale below.
Farmhouse Corner Shelf Inspiration
There are a couple of rustic farmhouse shelf designs below that would work wonderfully in a country home. They are very useful in a kitchen, living room, or a pantry.
Mill Creek Ridge Farmhouse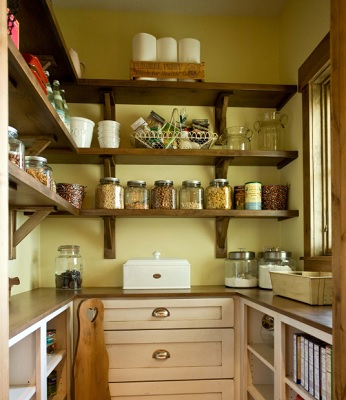 Mill Creek Ridge Farmhouse by Murphy & Co. Design
---
Urban Kitchen in the Burbs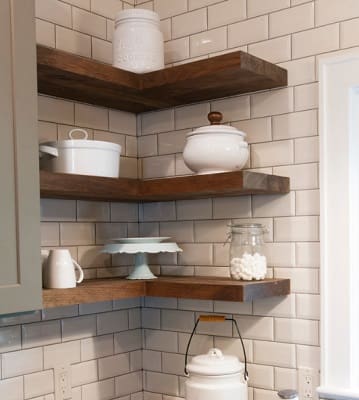 Urban Kitchen in the Burbs by Lemon Grass Interior Architecture
---
Corner Shelf Materials
Most farmhouse corner shelves are made out of wood to add to the cottage appeal. The best choice is to use corner shelves with the distressed-looking wood, finished with soft natural hues. You can also try shelves with incorporated metal elements in their designs. Iron piping frames or fleur-de-lis accents will make the shelves look more interesting and extraordinary.
Distressed and worn out wood finish combined with metal elements in a farmhouse corner shelves will execute a true rustic vibe that you were looking for.
Farmhouse Corner Shelves and Space
There is never enough storage space in a household, no matter how much we try. Shelves are the easiest and most practical way of solving that problem. However, corner shelves become real handy when you don't want to limit your space because they are not featured in the middle of the room like other shelves and still provide a relevant storage solution.
Rustic Corner Shelf Decor
The distressed look of cottage and farmhouse corner shelves provides a warm feel to the household and creates a cozy atmosphere. For a stronger cottage vibe, style the farmhouse shelves with wicker baskets and use some display objects that will accentuate the homelike look.
Farmhouse Shelves Pinterest Board
You can find a ton of different ideas and inspiration on our related Pinterest board here.
In Summary
When you are looking for shelves in your home, corner shelves are a great option. The farmhouse theme includes wood and sometimes pipes that resembles a distressed and antique look. In addition, a great benefit of corner shelves is that they offer space-saving designs in any home.