A well-lit home is eye-candy for both the occupants and visitors alike. In fact, lighting can add a touch of tranquility and elegance to a home. If you have a passion to beautify your home, then why not say 'Yes' to timeless farmhouse lighting style? Whether you are decorating a brand new home or making small enhancements to your home's interiors, farmhouse lighting can turn things around. There are several ideas to consider including kitchen lighting, dining room, pendant lights, chandeliers, flush mounts, and semi-flush mount lights and wall lights among others.
We listed plenty of farmhouse light inspirations for your kitchen, dining room, island, bedroom, and more below. You can find the farm home style lighting you are looking for.
Farmhouse Lighting Ideas
Design #1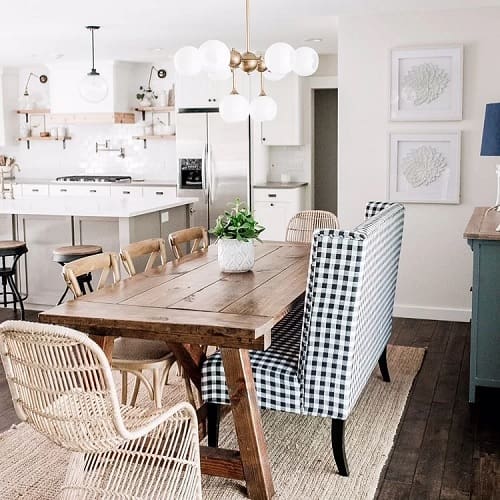 Design by @twentythreehomeco in #JossFind
---
Design #2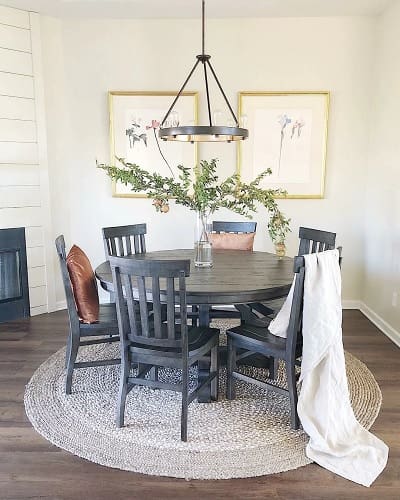 Design by @thecozycalifornian in #JossFind
---
Design #3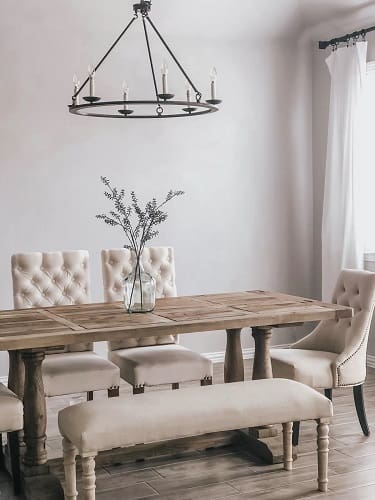 Design by Wayfair in Our Customers Homes
---
Design #4

Design by @fridleyhomes_design in WayfairAtHome
---
Design #5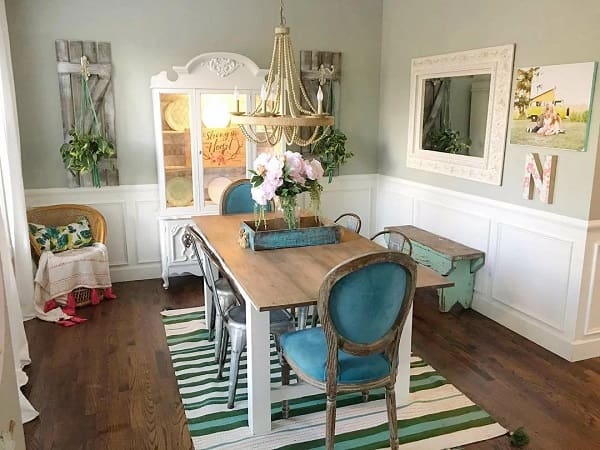 Design by @thisisnow2018 in #JossFind
---
Farmhouse Kitchen Lighting
There are no hard or fast rules to observe in farmhouse kitchen lighting. You can conjure a more tranquil kitchen space by adding charm and warmth with these simple lighting ideas. You can hang farmhouse lamps from rustic wood fixtures or even from the ceiling. For a more appealing and harmonious design, you can make everything natural including stones, slate or even wood. It is both inspirational and original.
Farmhouse Dining Room Lighting
When hung at an ideal height, farmhouse lights can transform your dining experience. These dining lights come in designs that are compatible with various ceiling types including sloped and more. To extend the theme and ensemble a more traditional charm, you can consider hanging them in entryways as well.
Farmhouse Chandeliers
These lights feature classic designs but have been stripped down and streamlined to suit modern and mid-century homes. Farmhouse chandeliers are a bit compact and feature natural materials that set them unique from classic chandeliers. Believe it, these lights are beautiful and are often associated with American folk-art home designs. If you want to bring some homeliness and warmth to your room, simply use farmhouse chandeliers. They offer a touch that other lights don't. They can either be rustic, sleek or country. You can also get them in natural, weathered and vintage finishes. Chandeliers are good for use in entryways, bedrooms, dining rooms, and living rooms and more. Just match them with the existing décor of your room and you're done.


---
Farmhouse Pendant Lights
Farmhouse pendant lights come in rustic designs. These are a blend of various elements from industrial and mid-century lighting designs that create unique farmhouse lighting styles. Pendant lights provide the easiest way to incorporate fun and taste into a room. You can use them in many spaces including both small and large. With these lights, you can define your space without bringing an overwhelming effect. They are available in retro and rustic-shaped bulbs and lampshades.


---
Farmhouse Flush Mounts and Semi-Flush Mount Lights
Farmhouse flush mounts bring cozy ambiance that leaves your home tasteful and livable. They are great for use in small spaces or rooms with low ceilings. Apart from brightening up and decorating your space, they make it functional. These lights shine with elegance.
---
*This page may contain affiliate links.